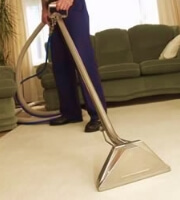 Carpets require a more thorough cleaning in order to be replenished of all the dirt and dust that has been piling on with time. We are a professional carpet cleaning service and we offer the best services available in Kensington – relatively cheap, effective very thorough!
We can chase out all the unwanted dirt, dust and bacteria and bring back the full beauty of your carpets. By using specialized cleaning equipment we are able to perform different types of cleaning procedures which will most definitely result in you enjoying a spotless clean carpets and rugs at home.
Residents of Kensington no longer have to struggle with cleaning their carpets and not achieving the desired end result- the reason for that is the lack of cleaning tools and specialized cleaning materials which we possess and use right to make your carpets look splendid clean!

Carpet Cleaning in Kensington
Prices
Hallway carpet

from £

4

Bedroom carpet

from £

23

Living room carpet

from £

25
Minimum call out charge £35.
Call our numbers or visit our office in Kensington for more detailed information on your carpet cleaning- our staff will assist in drawing up the perfect cleaning plan for your carpets. Count on us, as trained and professional cleaners, to make your carpets as clean as possible without damaging or ruining their integrity and fabric!
A poorly maintained carpet will not last long no matter how durable the material is. It is advisable that you clean your carpets thoroughly at least twice per year in order to keep it attractive and healthy to use. You do not have to do the cleaning yourself, our capet cleaning company can do it for you. We use hot steam extraction method, which is one of the most powerful and efficient methods to ensure that your carpets remain spotless.
We have top quality carpet cleaning equipment and this has always enabled us to offer high quality carpet cleaning services that you cannot easily find anywhere else.
The quality of our work speaks for itself and the cleaning is done in the simplest way possible. The first step is to remove any obstructions that might be on the carpets including furniture. Next comes the removing of all dirt and debris that might be on the carpet. This makes it easier to do the actual cleaning.
Carpet Cleaning in Kensington
Prices
Hallway carpet

from £

4

Bedroom carpet

from £

23

Living room carpet

from £

25
Minimum call out charge £35.
Do not deprive your home from the delight of having beautiful carpets and rugs laid out in it. It is particularly hard to maintain an excellent level of cleanliness, especially if you are working full time or look after children. The carpet cleaning chore requires you to perform a more thorough cleaning and most people are simply not prepared for such an enormous undertaking, but fear not!
Our cleaning service specializes in carpet and rug cleaning and we are, arguably, the best cleaners in Kensington.
Feel free to give us a call and outsource the carpet cleaning chore to us, then kick back and relax while we transform them completely. Our many years of experience have paid of well and now we are basically unstoppable- any type of dirt or stain can be removed if provided with the appropriate cleaning, and there is no one better than us in the entire Kensington to make that happen.
Our professionalism is explicit and we can guarantee you the best, most thorough end results- you will come to realize that the way you have been cleaning your carpets so far has very little in common with what we do. Contact us and have your carpets replenished of all dirt and spots!
However, before the actual cleaning is done all stains are pre-treated with an appropriate stain remover so that it is perfectly removed. The next step is the actual steam cleaning. The entire carpet is thoroughly steam cleaned ensuring that all dirt and stains disappear completely.
The carpets are left almost dry since we use powerful cleaning equipment that takes up much of the moisture. This is unlike most other carpet cleaning companies where you have to wait for several days for the carpet to dry before you can use it.
A carpet not only needs to be clean and attractive looking, it also needs to be sanitized and healthy to use. For deep cleaning of carpets, we use hot steam that kills all harmful micro-organisms that cause diseases and allergies. By the time we are through, we leave your carpet clean, healthy and smelling nice. Once your carpet and furniture are clean it is advisable that you protect them from dirt and spillages.
One nice protection is the scotch guard, which prevents dirt and dust from sticking onto the carpet fabric. We also dry-clean fiber carpets as opposed steam cleaning them. In this method, no water is used. Instead of water, we use a dry solvent that serves the same purpose.